Our update this week aims to give you an overview of each of our workstreams. There is a lot going on and many crossovers with other programmes. We hope by working in the open we are able to keep you updated on our work.
Please do reach out to us if you wish to speak about the work we are doing. We would be very happy to bring this work to particular service areas across the council through a lunch and learn. Contact: [email protected]
Web content audits: applying content design to our online content
Since our last update, we have completed both the qualitative and quantitative audits. This is for Waste, Highways, Housing and Bereavement. We now have a full list of the information to aid our pair writing sessions with each of these service areas.
To help organise our pair writing sessions, we have also put together a spreadsheet of priority pages. We categorised the web pages from each service area according to the number of page views it had. This information was sourced from Google Analytics.
The pages with the highest number of views were focused on first. This system helped us to prioritise the most important pages for user needs.
We have already rewritten and published several web pages we have worked on with Waste, the most recent one being 'What goes in my bins.'
In August, we held our first session with Housing. This was attended by reps from the service area Jasmina Ahmed, Yvonne S Wisdom and Julie Quibell. Together, we looked at the 'Antisocial behaviour' section of web pages.
We are still working through these but hope we will get the first rewritten pages on the website soon.
Bereavement: creating guidance
Last month, we published our new bereavement guidance on the Birmingham City Council website. We created 2 new pieces of guidance to help users through the bereavement process. They are titled 'What to do when someone dies' and 'Arranging burial or scattering of ashes'.
'What to do when someone dies' covers subjects on what happens right after the death of a person. It includes sections on:
Register the death
Arrange the funeral
Costs
Emotional support
The second piece of guidance, 'Arranging burial or scattering of ashes', tells the user how to bury a deceased person or scatter their ashes. It includes sections on:
Burying in a grave
Where you can scatter ashes
Booking a burial or scattering at a BCC cemetery
Choosing memorials and caskets
What happens on the day of burial or scattering of ashes at a BCC cemetery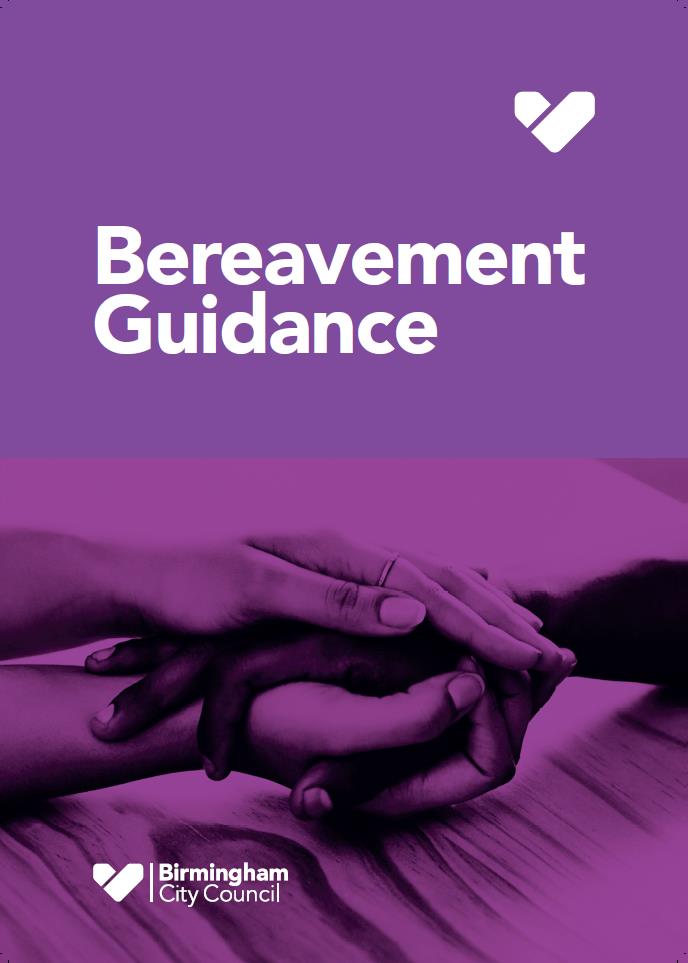 We have also produced an offline version of this guidance. It comes in a booklet form and includes all the information found on the online pages.
The offline guidance is aimed at people who are not typical internet users. These people may need this information but don't have the means to access it online. It is also aimed at local organisations in Birmingham that may deal with bereavement. This includes places such as funeral homes, hospitals, and religious institutions. These organisations will be able to provide a copy of this guidance to their customers in the event of a death.
User Testing
We have been conducting user testing sessions to get people's feedback on our online bereavement guidance.
We held a series of remote interviews with 7 people in Birmingham. They all had various levels of experience with the bereavement process.
We showed each of them the online web pages and asked them to read through them. We also asked them questions, such as 'What is this guidance telling you?' and 'Where do you think this guidance would be useful?'.
Feedback on the guidance was mainly very positive. Most participants agreed that it helped them understand the bereavement process much better. In the next few weeks, we will test the offline version of our guidance with users. This time, we plan to meet with a group of participants in person to show them a draft of the booklet we have created. We hope that we will get a similar level of positive feedback from this too.
Housing: mapping the end-to-end tenant journey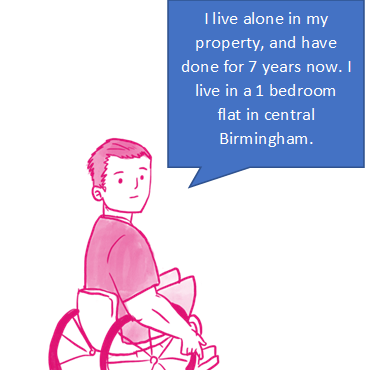 The three journeys are from the perspective of a:
young parent
single parent with experience of domestic abuse
person with a disability experiencing homelessness
The team have been working to stitch together the segments to create the end-to-end blueprints. These blueprints show the tenants' journeys from start to finish. They encompass:
the tenants' interactions
the activities that BCC conduct to ease the tenants' journeys
the tenants' emotional level throughout their journeys.
We mapped our Gold Standard onto the blueprints. It shows the gap in implementation between the current service, and the Gold Standard.
Next steps
We will be presenting our work at the DMT City Housing meeting
Housing: understanding how our customers want to share feedback
As part of the programme, we have been working with four Masters' students that are on placement with the Housing service. Our aim was to understand what Housing customers need and want when sharing feedback with the council.
Since our last update, we have had a busy couple of months conducting user research. We have spoken to tenants in Birmingham to build our understanding on:
how they want to share feedback
how frequently they want to be asked for feedback
how they want us to communicate with them once that feedback has led to changes in the service.
Our research findings uncovered several themes. This was based on the current experience tenants have when sharing feedback. These are the key highlights from our findings:
There are various reasons that prevent tenants from giving feedback:

They are not asked
There is a language barrier
It can be intimidating to speak to the council (perceived as an authority)
Lack of information and internet access
They have not heard back about feedback given earlier
Contact Centre wait times are too long

What currently happens when tenants provide feedback:

They typically do not hear anything back after providing feedback to Birmingham City Council via surveys

They do not hear what actions have been taken on receipt of their feedback

At times, a caretaker will come back with answers, which is good

Tenants would be more encouraged to provide feedback if:

there is a clear feedback loop, and they can see improvements are made as a result

there were more opportunities to provide feedback

there were more offline ways to provide feedback.

Tenants want to provide feedback, and this should be available online and offline.
Tenants want to be informed, both online and offline, what service improvements have happened as a result of feedback.
The team also spoke to staff across the service. Their aim was to understand:
how the service currently asks for feedback
how the feedback is used
the different touch points with staff and tenants.
By speaking to the staff, we created process maps. These helped us to visually describe the flow of work and the steps taken to record a tenant's feedback. The process maps identified:
who asks for feedback and how
the steps involved when the feedback is satisfactory or unsatisfactory
who is responsible for overseeing various steps
where the feedback is stored and how it is communicated to different teams
Next steps
The team are currently compiling a set of recommendations. These will set out how the Housing service can improve the process of asking for tenant feedback. This will also include opportunities to ensure feedback is continuously reviewed and actioned.
Waste Management: improving digital communication with residents after a bin has been missed
Since our last update, the team has now concluded much of the planned work on the alpha delivery.
Following a review of the current missed waste collections online journey for residents, we agreed to focus on four main areas:
The guidance and information online for missed waste collections – reasons why this happens and how to report them.
The online form used to report missed waste collections.
Off-system notifications after a missed waste collection form has been submitted.
Reasons for a missed collection.
The team identified potential opportunities to help improve the above areas in the short, medium and long term. The short-term opportunities were worked into several changes that were tested with users:
Revised guidance and information for missed waste collections.
An interactive prototype of the online form residents need to complete to report a missed waste collection.
Revised content for the current off-system email confirmation when a missed collection form has been submitted – this included a test for an SMS alternative (currently not available)
A new off-system email notification and content for when the missed waste collection case is closed -this included a test for an SMS alternative.
A revised set of clearer reasons to display to residents explaining why there was a missed waste collection and guidance on what they need to do.
We recruited and engaged with 10 participants to complete the user testing in this phase. Most participants responded positively to the revised changes.
The alpha user testing helped to confirm that if these changes were implemented, we would start to improve digital communications with residents.
Key findings included:
The guidance and information provided throughout the online journey was clear
There are more descriptive reasons why a waste collection may have been missed
Whilst the missed collections form was similar to the current form, participants found the revised form to be more straightforward, clear and quicker to complete
Further guidance and information improvements should be considered to ensure consistent terminology is used
It should be explained why residents need to complete the form and how it is worthwhile
Most participants preferred email communications from the service, but this does require further research
Participants would like to see further communications that outline if the reported missed bin can be collected, if so when- these improvements are planned for a later release.
In addition to the alpha user testing, we completed a technical assessment. This was to confirm if the changes required to support the delivery of improved missed collections communications were realistic against the short, medium and long-term opportunities identified.
The technical assessment against the short-term opportunities we took into alpha testing were considered to be realistic, low risk technical changes. These would reuse existing online applications and would have medium to high impact value for residents using the online journey.
A technical options appraisal was completed to recommend a medium to long-term target state for the missed collections. This would further enhance the digital communications to our residents.
Next steps
The team is now finalising the alpha report. The report includes a set of recommendations for the Waste Management service leads to review and approve.
The key recommendation is to proceed into the beta phase, so that we can implement the short-term opportunities tested during the alpha phase. We could also research or validate any other insights.
To implement the short-term opportunities, we would be looking to release these into the live service over a period of 3 to 6 months.
Contact Centre pilots: Home to School Transport and Bereavement Services
The successful migration of the Homes to Schools service into the Contact Centre took place on the 26 July. During August, the Centre handled 1,368 calls (93% answered), which is a very positive service level.
The Homes to Schools team have settled in very well to this new service. We have received some great compliments for several of our advisors from parents. The service area has also been very pleased with the success of the transition and the support provided to them.
Due to data issues, the Contact Centre have also picked up extra outbound service requirements. These were to ensure that parents were completely aware of transport details for the new term.
We will be looking to work closely with the service in the future, to make further improvements with regards to data cleansing. In addition, Bereavement Services telephony function was also successfully migrated onto the Contact Centre Cirrus platform on 4 August and now provides a single contact number for our customers. With a workaround in place to address the connectivity issues the service was experiencing at the Yardley site, the first day of operation on the new system saw 77 calls received – an impressive 93% success rate with average call durations of 4 minutes.
Next steps
Baseline and monitoring of the performance data to inform service demand requirements continues; and next steps will involve transitioning the service to the Omni channel platform to enable seamless and effortless, high-quality customer experiences between contact channels (email, voice, webchat).
Culture Change: Customer standards workshops
The Customer Standard Workshops are now open for registration and are being rolled out online in the coming weeks and months. Organisational Effectiveness NWOW, Talent & Learning and Digital & Customer Services have teamed up to deliver 60 workshops for staff over the next four months.
Each workshop is scheduled for 1 hour and will provide staff with a unique opportunity to hear what our customers are saying about us (both externally and internally), and to discuss recent examples and employees' thoughts on successes and areas for development.
Workshops will be closely aligned to our Customer Charter, helping staff understand their role in taking our Customer Charter "Off the wall and into our hearts" and delivering a best-in-class customer service.
All employees are being encouraged to attend. Promotion of the workshops continues through all internal communication channels and managers are being asked to encourage as many staff as possible to register and attend a workshop.
Customer Panel

The first meeting of the newly established Customer Panel was held on Monday 5 September. Eight of the selected 10 Birmingham citizens were in attendance, all of whom bought their own varied experience and enthusiasm to the meeting.
The meeting was designed to be an opportunity for the panel members to meet each other in person and also to provide a comprehensive update on the work of the programme team to date.
Peter Bishop welcomed everyone to the panel and also shared an online video of thanks from Councillor Brigid Jones. Councillor Jones emphasised how important the role of the panel is now and going forward and how it is essential that the city council improves the customer experience across all of our interactions.
The Panel chair, Fiona Lane, discussed issues such as the terms of reference for the Panel, the dates, times and frequency of meetings etc. Following the meeting, we have decided to extend the panel to make it more representative of Birmingham, so we are once again out recruiting new citizens to join us in this exciting piece of work.