I am excited to announce some great senior roles I am introducing to our digital team!
Having just launched our new digital strategy, as a council, we are massively committed to investing in our people to deliver human-centred services to our citizens and businesses; as well as developing highly usable services for our front-line staff so that they too can provide the best possible services. Watch a short video which outlines the strategy and also check out how we approached this.
This is an opportunity to join a large and growing team in a lead role across a range of disciplines (we have over 40 people across our emerging product and delivery teams). We are looking for people who can help us to build up communities of practice in their areas of expertise; to enthuse and educate others; and to show what good really looks like in building digital services. In return we'll help you build your capability and your career in the way that works best for you.
The key roles we want to attract now are:
You will be joining a team that will be at the heart of transforming council services and delivering on the council's ambitions to make Birmingham a prosperous, inclusive, safe, healthy and green place in which to live, work, grow up, grow old and do business. This could be an unprecedented opportunity for someone looking to take their career to the next level, designing and delivering services that directly improve the lives of 1.1m residents in the largest council in Western Europe.
This is a really exciting time to be joining Birmingham Council – with unprecedented levels of investment in digital, a solid strategy to get behind, and a new CIO, Cheryl Doran, who has a long history in Local Government and is heavily invested in building great digital services in Birmingham. You can read about Cheryl's aspirations for our services. More about how to apply for the roles is towards the end of this post.
Birmingham's approach to delivery
The Council's digital team is part of the IT and Digital service and therefore benefits from having control of all of the levers needed to transform digital services. Having one set of priorities, defined by our digital strategy is a very powerful enabler to getting things done and we are demonstrating that through the delivery of some exciting programmes, some listed below.
A bespoke solution, designed by us for our field work staff
Our field worker programme is a great example, where we have 3 agile delivery teams developing the core elements of a platform that will serve all 5000+ field workers in Birmingham. The project has the backing of the Department for Levelling Up, Housing and Communities (DLUHC) who have given their backing and funding to the project through the Local Digital Fund. You can see and hear some of the team in action in this show and tell of the build so far.
Using user centred design in council services
Another key focus for us is the delivery of our Customer Service programme.
We already have 3 agile teams tackling a range of service performance issues to create much better services for all users who interact with council services, our customers. We will be investing even more in this team in 2022 as it is the cornerstone of our citizen user experience.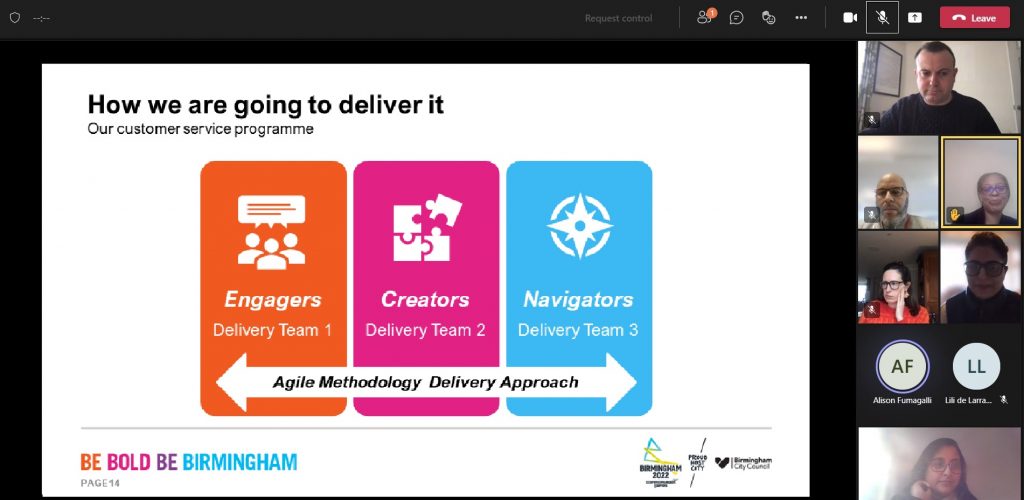 Interested in joining us?
We understand the application process can be a daunting experience, and we've tried to keep it a simple as possible. If you'd like to apply for any of the roles, please see the links below to WM Jobs, the city council recruitment portal:
The short job descriptions above will give you a real feel for what type of person and skills we are looking to recruit. You can also check out some tips on writing your supportive statement which is part of your submission here.
If this floats your boat and you think you could help us take our design and/or delivery to the next level, have a look at the roles above and I hope you'll apply below! The closing date for expressions of interest across all five roles is midnight on Sunday 19th June 2022.
The team and I are also planning an online information event where you can learn more about the team and about the roles – follow us on Twitter and Linkedin for more info.
Looking forward to speaking with you soon, in the meantime if you have any questions, please email us at [email protected].
James