This is the first of a regular weeknote on the Customer Service Programme as we move through to the delivery phase. The team will aim to keep you posted on achievements, progress, next steps and even highlight things we are worried about along the way. So please do read on to find out more!
Good things
Following submission of the Customer Service Programme report and final papers to Cabinet, the team have not rested on their laurels and with huge thanks to Omar Khan, and the 'baton firmly handed over', the delivery team was onboarded in preparation for the target kick-off date in January 2022.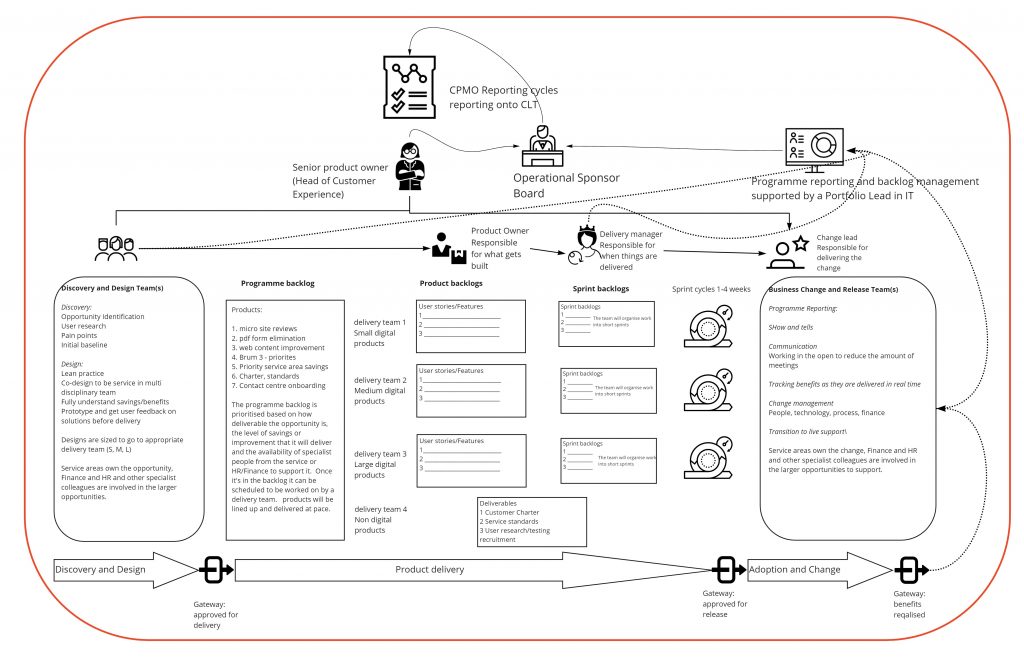 The delivery phase is still very much in the early planning stages (this will continue for the next 2 weeks), however, the delivery team have bonded over structuring and refining, what will eventually be, the Product Backlog; and gaining a common understanding of the scope of programme deliverables. Definitely a bit of a learning curve for the team but our Agile coach, Azim Akhtar, has helped the team gain the momentum needed to kick-start this work.
Product Owners Geraldine Collins (Head of Operations) and Sheraz Yakub (Head of Online Service Delivery) have started validating the business value of the backlog items for prioritisation; updating a living document on Teams, ensuring transparent visibility of the developing backlog. The aim is to have an outline high level plan and a view on what items will be ready to be taken forward to Sprint Planning by the end of next week.
Learned things
The scope of the programme is vast with a mixture of technical and non-technical deliverables with components at various stages – some will require Discovery, whilst others require incremental releases which will be managed via business as usual led by Simon Field (Head of Business Improvement and Support at Birmingham City Council) working closely with Surita Solanki on delivery and change management activities.
Difficulties
Lots of new techniques to take onboard but the team is stepping up and enjoying the experience so far – the engagement and focus has been impressive!
What's next?
Still lots of planning to get through, including a review of governance requirements to align reporting to agile; further refinement of the backlog items and Nathan Thomas (Business Analyst) will work on turning a number of Epics into user stories; preparation for Programme Board on the 22nd December 2021; and we hope to progress work on the design approach for the programme working with Hannah Pinnock of Methods.
A key focus will be on validating surveys and user research already conducted, identifying touch points in other strategies; continued refinement of the backlog to produce a high-level plan to share with the Board and clarifying required role resources in preparation for kick-off.
Customer Service Programme Delivery Team:
Nikki Spencer (Delivery Manager); Wendy Griffiths (Operational Sponsor); Geraldine Collins (Senior Product Owner); Sheraz Yaqub (Product Owner); Simon Field (Business Change Lead), Surita Solanki (Business Change Manager), Nathan Thomas (Business Analyst); Azim Akhtar (Agile Coach); Hannah Pinnock (Technology Service Design)
For more information, feel free to contact me via [email protected]