We recently launched the city's co-designed Digital Inclusion Strategy for Birmingham citizens and communities. The last year or so, we as a Council, have been working incredibly hard with partners across the city to begin to develop Birmingham's approach to tacking digital exclusion.
Digital exclusion continues to be an issue for some of our citizens, the pandemic has exacerbated the fact that in some parts of the city, they struggle to do things online; whether that's keeping in touch with family and friends, seeking job opportunities, accessing financial support, accessing medical appointments, ordering goods online, or even transacting with city council services.
Tackling digital exclusion is not something that we as a Council can, or should, do alone. This is an issue that we need to face together as a city – working collectively with businesses, voluntary and community organisations, education and training providers, and communities. Our collective response to the Covid-19 pandemic has demonstrated that we can achieve amazing things when we work together. The city's Digital Inclusion Strategy is focussed on supporting citizens, communities and organisations to help them to gain the benefits that being digitally included can offer. However, we do recognise that not every citizen will have a preference for digital and as part of the Council's Customer Programme, we will support citizens to access services using alternative ways until they are ready to adopt digital opportunities.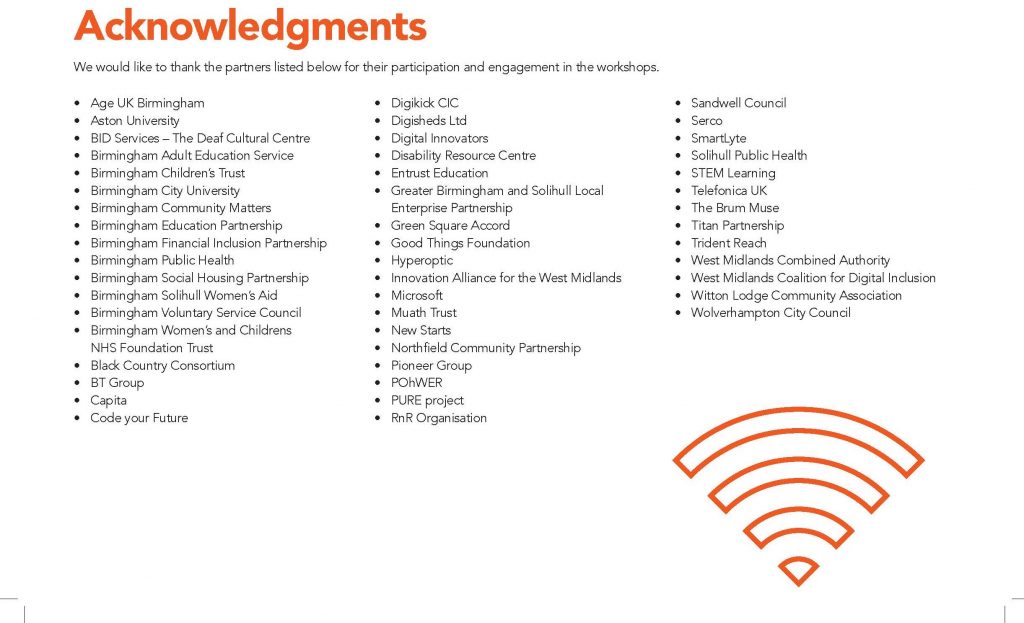 The launch on the 30th November, compered by our Director of Digital & Customer Services and the Council's Digital Champion – Dr Peter Bishop, saw over 70 partners and colleagues attend. During one of the segments of the launch, residents and school pupils spoke of their experiences and the importance of having regular access to digital services. Some of the residents were joined by the organisations that supported them. They spoke about the difference being connected made and the opportunities that this opened up for them and their families as well as the support they received from their school or other organisations without which, they would have struggled with everyday living activities that many of us just take for granted.
Special thanks to all those involved in the launch:
• Helen Milner OBE (CEX of Good Things Foundation) for delivering a powerful keynote, promoting the importance of working together to fix the digital divide
• Cllr Brigid Jones (Birmingham City Council's Deputy Leader) and Cllr Jayne Francis (Cabinet Member for Education, Skills and Culture)
• Jill Sweeney (Head Teacher of Aston Manor Academy) together with Year 11 pupils Imdad and Radiyah
• Pauline Roche (Northfield Community Partnership) together with resident Anthony
• Ricardo Dodd (Adults Social Care) together with residents Donna and Sharda who are part of BCC's Citizens Involvement Panel
• Salim Shaikh (Smartlyte Ltd) and resident and carer Kay
• Ilgun Yusuf (Acting Assistant Director Skills & Employability for BCC )
• Mick Westman (Founder & Managing Director of Digital Innovators)
• Mike Grogan (Business Development Director of Vodafone Group)
• Benita Wishart (Learning and Evaluation Lead – Neighbourhood Network Schemes & Prevention & Communities for Birmingham Voluntary Service Council)
The strategy launch is the first of many engagement opportunities aimed at kick-starting conversations about how we can work in collaboration to start to identify opportunities and interventions to support our citizens and communities. This is an opportunity to work in collaboration to explore new opportunities and work together to tackle social exclusion and work to equipping people with the necessary skills, confidence and motivation to live a fulfilled life. If you or your organisation would like to get involved, please email the Digital Inclusion team at [email protected].
Birmingham City Council is establishing a new digital inclusion team to work alongside city partners and stakeholders to provide co-ordination and support to community organisations in developing their digital inclusion approaches. We are out to advert on a role for a Digital Inclusion Project Leader – please do share details with your networks – thank you!